Experienced Home Window Replacement Near Spinnerstown, PA
If you're interested in home window replacement near Spinnerstown, PA, Green Eco Solutions is the company to trust. We're a home improvement contractor that's been established in this region for more than 30 years. Our company offers an extensive collection of premium windows from the top brands, but we do much more than just sell and install windows. Our mission is to help area homeowners improve energy efficiency in order to reduce their energy costs and lower their carbon footprints.
Need Renovation Services?
Get A Free Quote
$85/Month
House Full Of New Windows
Must purchase a minimum of 8 windows to qualify.
Subject to approved credit. Cannot be combined with any other offer. Offer expires on September 30, 2023.
Is It Time to Replace Your Windows?
A common mistake we encounter is homeowners waiting too long to replace their windows. All window products have an expected lifespan, and the most cost-effective approach over the long term is to replace them as you reach the end of that period rather than waiting for them to give out. Draftiness is a sign you've reached that point and a problem that results in higher energy costs. Condensation can indicate that the windows are inefficient or have developed a more serious moisture problem. Windows that let in a lot of external noise aren't providing enough insulation, and you should replace windows that are difficult to open or close or which have non-superficial damage to the frame or glass.
The Benefits of Window Replacement
There are many great reasons to schedule home window replacement near Spinnerstown, PA, including enhanced curb appeal and an increase in home value that can reflect a more than 70% return on investment according to real estate industry data. Increased energy efficiency will result in greater home comfort and a reduction in cooling and heating costs of 12% on average. Improved noise dampening will result in quieter rooms and better listening experiences. The windows we offer are easy to clean and require little to no maintenance. They will enhance the security of your home, and you can even improve indoor air quality with features like shades and blinds installed between the glass.
Why You Should Choose Green Eco Solutions
Green Eco Solutions is the right choice for your home window replacement near Spinnerstown, PA because we've been a trusted window installation company in this region for more than 30 years. We are fully licensed and insured and a NARI-accredited remodeling company. Our company has also earned Better Business Bureau accreditation with an A+ rating and many positive customer testimonials online.
Need a Window Replacement?
Windows for Any Home
Each home is unique, which is why we offer many different options for home window replacement near Spinnerstown, PA. Choose from a wide variety of brands, styles, and materials, including vinyl and composite wood windows.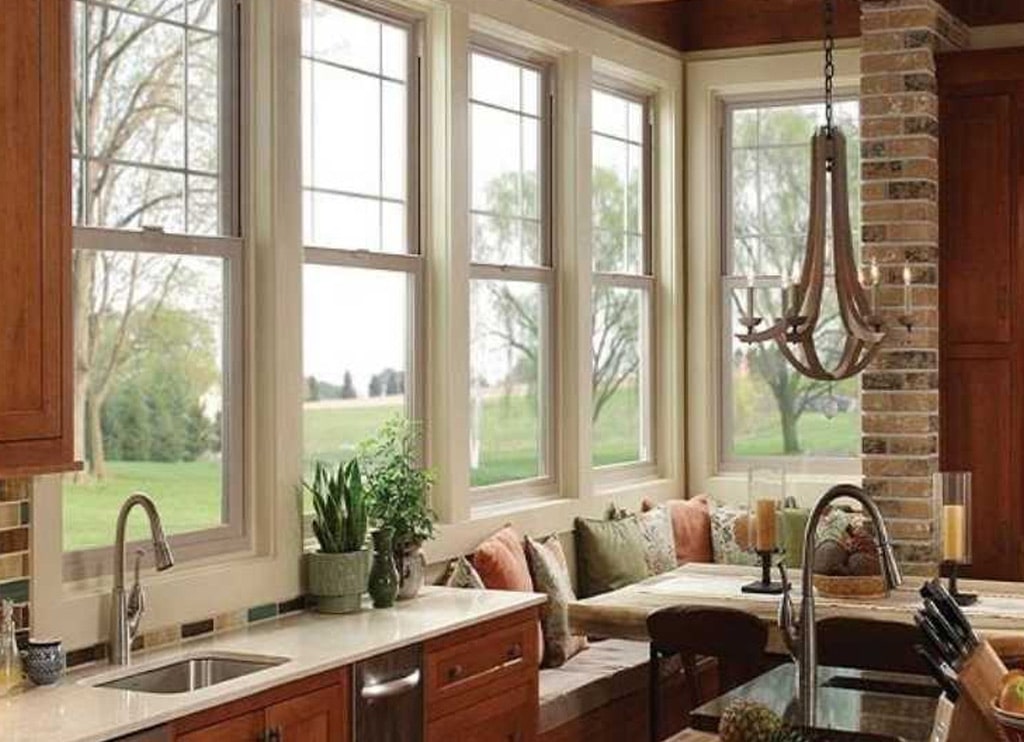 Vinyl is the most popular choice for home window replacement near Spinnerstown, PA because these products are affordable while providing excellent performance over decades with little maintenance. These products also give you a wide range of choices when it comes to colors, styles, and types.
For a window that provides even greater energy efficiency and a longer lifespan, consider composite wood. These windows have a real wood core and thus all the durability benefits that come with that, but they have a layered vinyl coating that provides you the ease of maintenance and cleaning.
All of the windows we offer our customers for home window replacement near Spinnerstown, PA are energy efficient because it's important to minimize the energy costs and carbon footprint associated with your home. In fact, many of the products we sell have ENERGY STAR certification, which may even make you eligible for tax credits and other incentives that can help you offset the initial cost.
It's generally a good idea to replace all of your home's windows at the same time, but we realize budgeting for such a project can be difficult for many homeowners. That's the reason we offer flexible financing options for home window replacement near Spinnerstown, PA. You can opt for short-term financing for up to 48 months and take advantage of an interest rate as low as 0%, or you could enjoy a low, fixed payment each month for a period of up to 120 months.
We Offer Free Estimates
If you're interested in home window replacement near Spinnerstown, PA, we'll send one of our window experts to your home without cost or obligation. Our specialist can inspect your current windows and provide an assessment, explore your window replacement options with you, answer any questions, and give you accurate estimates that cover all materials and labor for any products that interest you.
Choose Green Eco Solutions for Peace of Mind
When you hire Green Eco Solutions for home window replacement near Spinnerstown, PA, you do so with the confidence that we're going to deliver the best materials, top-notch services, and real value for your home improvement dollar. Contact us today to schedule your estimate or with any questions.