Replacement Window Services in Perkasie, PA
Green Eco Solutions is a home improvement business that provides window replacement services to homeowners in Perkasie, PA. We have over 30 years of experience. If you're ready to make the switch to energy-efficient windows, our team of window contractors is ready to help. We also provide financing options to help your family afford the window upgrades you require.
Need Renovation Services?
Get A Free Quote
$85/Month
House Full Of New Windows
Must purchase a minimum of 8 windows to qualify.
Subject to approved credit. Cannot be combined with any other offer. Offer expires on September 30, 2023.
Why Choose Green Eco Solutions
Perkasie, PA residents choose Green Eco Solutions as their top window replacement contractor. Our experts are part of your community as a local business, allowing us to provide more personalized service. They are also committed to providing excellent customer service and producing high-quality work. Our Better Business Bureau A+ rating and accreditation demonstrate our dedication. Green Eco Solutions can assist you with any window project, large or small.
Signs You Need Window Replacement in Perkasie, PA
There are several indicators that you may require window replacement in Perkasie, PA. One sign is if you notice a draft or a temperature difference near your windows. Another sign is if there is moisture or condensation between the panes of your windows, or if the frames or sills are rotting or warping. If your windows are difficult to open or close, or if they show signs of wear, such as peeling or cracked paint, it may be time to replace them. Furthermore, if your energy bills are rising, it could be a sign that your windows are inefficient and need to be replaced.
Benefits of Window Replacement in Perkasie, PA
Window replacement can provide numerous advantages to your Perkasie, PA home. One of the most significant advantages is energy efficiency, as new windows can significantly reduce the amount of heat or cool air lost through old, drafty windows. This can result in lower energy bills and a more comfortable living situation. Furthermore, new windows can improve your home's overall appearance, increase curb appeal, and increase the value of your property. Window replacement can also improve security by making it more difficult for intruders to gain entry. Furthermore, new windows can improve ventilation and increase natural light in your home. Window replacement can also improve indoor air quality by reducing the amount of dust, pollen, and other pollutants that enter your home.
Types of Windows Green Eco Solutions Installs
Green Eco Solutions' team has the training, credentials, and experience to handle any window replacement and installation project in Perkasie, PA. In fact, we work with all kinds of windows, such as those listed below.
Single-hung windows, also known as sash windows, are commonly installed in modern homes. The style features a bottom sash that slides up to open. The top sash remains stationary. This is the budget-friendly window option.
These windows have two movable sashes stacked on top of each other, allowing you to slide the top sash down or the bottom sash up. For added versatility, models that tilt in and out are available. Just like single windows but with 2 moving parts.
These are glass-sided recesses that extend from your house. They appear to be decorative expansions from the outside. Bay windows create extra space or cozy-looking nooks on the inside. They come in bay, box, and circle configurations.
Casement windows, as opposed to panel windows, provide an unobstructed view of the outside. These windows are typically made up of two glass panes that are placed next to each other and can be opened upwards or sideways.
Gliding windows are made up of two separate window panels that are placed next to each other and overlap slightly at the frame. They function by sliding one panel over the other along a track, making them simple to open.
Whether you need awning windows, architectural windows, garden windows, or any other type, our expert window contractors have you covered. We can make sure you get the right windows for your home that will last for decades.
Need a Window Replacement?
Quality Window Replacement Materials
The window contractors at Green Eco Solutions are experts in window replacement in Perkasie, PA. We specialize in vinyl and composite windows that will complete your desired aesthetic and functionality.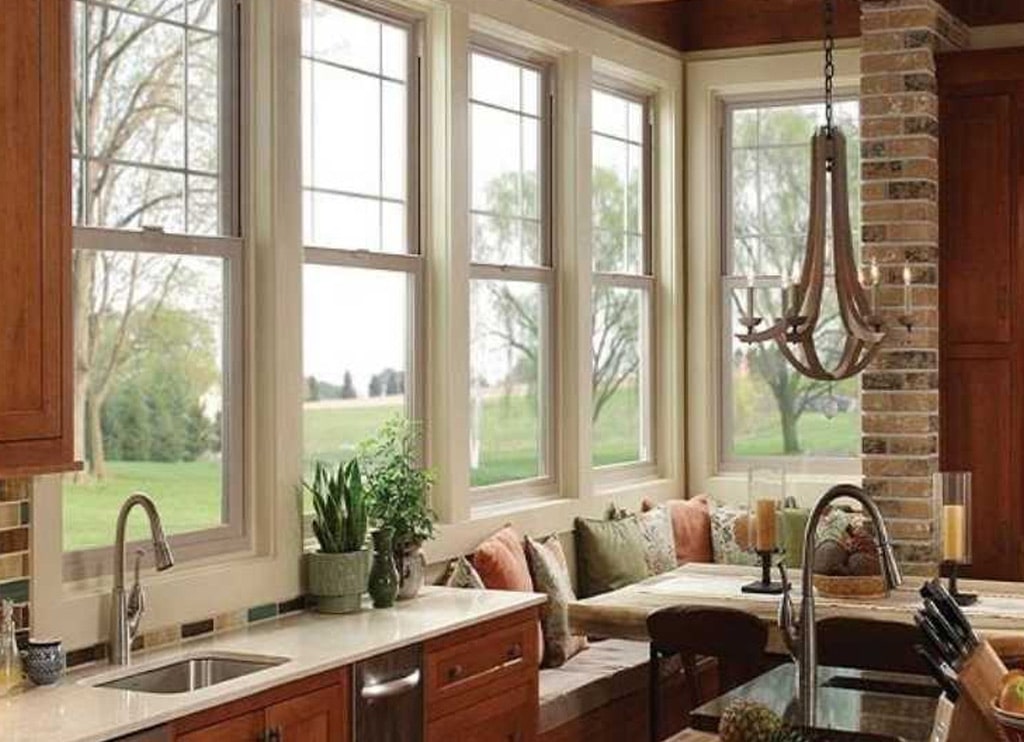 Vinyl windows, which are primarily made of long-lasting extruded polyvinyl chloride, do not require sealing or painting and are available in a variety of colors and finishes, including long-lasting dark shades. Because they are less expensive than wood windows, they are a good choice for home window replacement projects.
Composite windows are a popular choice for homeowners looking for the ideal combination of durability, energy efficiency, and aesthetic appeal. These windows are made from a variety of materials, typically a combination of wood and a long-lasting composite material like fiberglass or vinyl. Composite wood windows have exceptional insulation properties, preventing heat transfer and lowering energy costs.
Contact Our Perkasie, PA Window Contractors
Are you looking for qualified window replacement contractors in Perkasie, PA? Put your faith in Green Eco Solutions for quality workmanship on your window replacement project. Whether you need extra caulk around a single window or want to replace every window in your house, our team can handle any size home improvement project. To schedule an appointment, please call 1-610-798-1498 or use our online contact form.