The Perfect Replacement Windows for Your Home in Spinnerstown, PA
If you own a home in Spinnerstown, PA and the time has come to replace old, worn, and outdated windows, Green Eco Solutions is here to help. We're a window installation contractor that has been serving Spinnerstown, PA for more than three decades, and offer a wide selection of the best replacement windows available. We will help you choose the perfect windows for your home while maximizing your home improvement budget and delivering a high-quality installation that you can count on for decades to come.
Need Renovation Services?
Get A Free Quote
$85/Month
House Full Of New Windows
Must purchase a minimum of 8 windows to qualify.
Subject to approved credit. Cannot be combined with any other offer. Offer expires on September 30, 2023.
The Benefits of Spinnerstown, PA Replacement Windows
Windows are an integral component of your home's building envelope, and as windows get old and wear out, your energy costs rise and your carbon footprint grows. Replacement windows are an opportunity to choose energy-efficient windows that will lower your heating and cooling costs and make your home quieter and more comfortable. New windows will enhance curb appeal and add real value to your home. This investment is also an opportunity to choose windows that are more secure and easier to clean, and you can even select features like integrated blinds for improved indoor air quality.
Signs It's Time to Replace Your Windows
Ideally, you should replace your windows prior to reaching the expected lifespan of your current windows rather than waiting for them to fail. You may also want to install your Spinnerstown, PA replacement windows simply because you want a new look or features, or maybe you've already waited a bit too long. Drafts are a sign that you need new replacement windows, and drafts are just costing you more money. Excessive outdoor noise is usually an indication as well. Windows that are difficult to open or close or are no longer secure should be replaced. You should also replace windows that have non-superficial damage to the glass or frame.
Why You Should Choose Green Eco Solutions
Green Eco Solutions is the name to trust for all Spinnerstown, PA replacement windows because we are established in this area and have earned many satisfied and loyal customers over the years. We sell the best windows available. Our team installs them in a detail-oriented manner that stands the test of time, and we stand behind our workmanship and all of the products we sell and materials we use.
Need a Window Replacement?
Green Eco Solutions only installs energy-efficient replacement windows, including those that have earned Energy Star certification from the EPA. We choose these windows because they save you money on a month-to-month basis, and those savings really add up over the years. The windows we offer are easy to clean and maintain as well and provide you with superior security and peace of mind.
The Windows We Install
Our window installers are highly skilled and have extensive experience with vinyl windows. Vinyl is the most popular choice for replacement windows these days due to the balance between upfront and long-term costs. We also install composite wood windows, which are an effective option as well.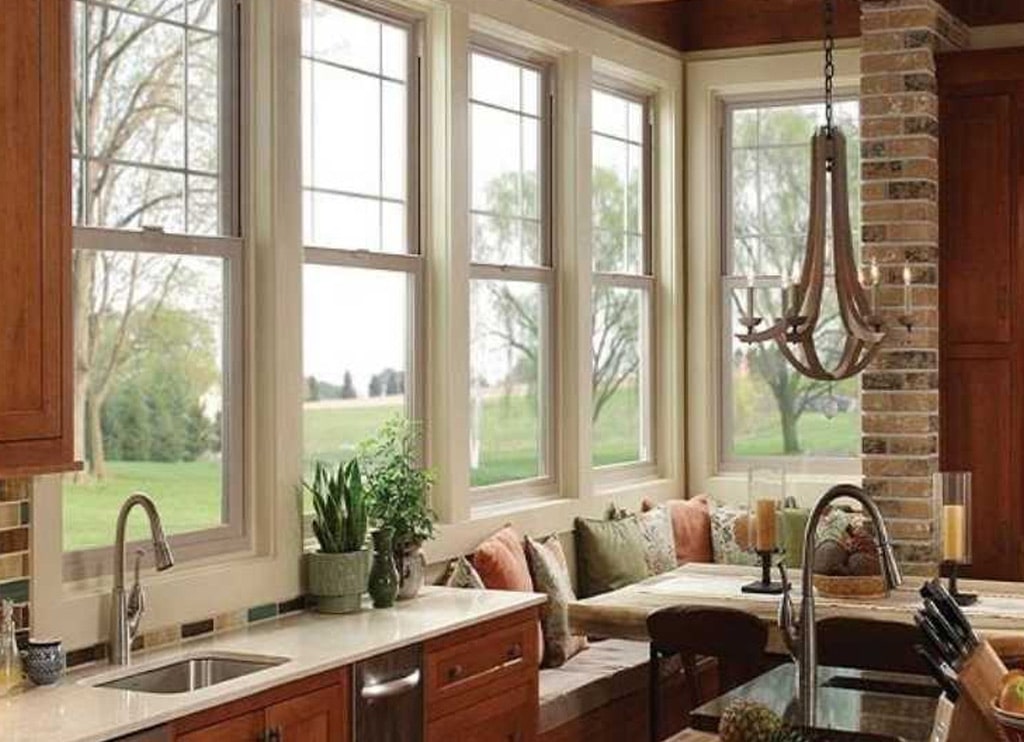 Vinyl windows are an excellent choice for virtually any home. They're available in many different colors and styles. Vinyl requires little to no maintenance and will never fade or rot. These windows will also last for decades and thus provide you with an excellent return on your investment.
Composite wood windows, such as those from TimberX, deliver the charm and beauty of real wood but with the strength and low-maintenance requirements of cellular PVC. These windows do cost more upfront, but they also offer greater longevity, which helps to offset the additional cost.
Many Styles to Choose From
Our team installs all manner of replacement windows and can help find you the perfect option no matter what your preferences are or the unique needs of your house. That includes windows that have been custom-made for your home but also awning, bay, bow, casement, double-hung, and picture windows.
If you want replacement windows for your entire home, that can be a significant investment, and we can make it even easier to budget for through our financing program. We offer short-term options through which you can enjoy interest as low as 0% for 48 months, and we offer long-term options through which you can enjoy a low fixed payment once a month for up to 120 months.
Free Window Replacement Estimates
If you're considering Spinnerstown, PA replacement windows for your home, Green Eco Solutions is happy to come out to your home to provide a consultation at no cost and without obligation. We can answer your questions, explore all of your options, and provide you with accurate quotes for any of our windows that interest you.
Trust Green Eco Solutions for Your Spinnerstown, PA Replacement Windows
Many homeowners in Spinnerstown, PA have trusted us for their replacement windows, and we're confident that we can make you our next loyal and long-time customer. Contact us today to schedule your consultation or with any questions about the windows and services we offer.