Asphalt shingles are the most popular roof covering for homes because of their low cost, durability, and availability in a wide range of styles, colors, and textures. We carry three-tab shingles and architectural shingles from leading manufacturers to give your home a long-lasting and beautiful finish. Proper installation, maintenance, and repairs are required to get the most out of your asphalt roof. That is why it is critical to hire an experienced, professional contractor you can rely on.
Asphalt Shingle Installation in Stockertown, PA
As the leading roofing installation company in Stockertown, PA, we strive to make the process as simple and convenient as possible. We will send a certified roof inspector to your home at no cost and without obligation to perform a thorough inspection of your roof. If your roof does not need to be replaced or only needs minor repairs, we will let you know, and if it does, we will discuss your options with you and provide you with an accurate estimate.
Need Renovation Services?
Get A Free Quote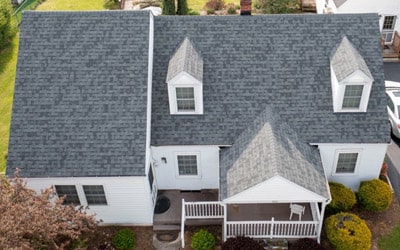 $139/Month
A Full Roof Replacement
Roof must be a minimum of 15 squares to qualify.
Subject to approved credit. Cannot be combined with any other offer. Offer expires on September 30, 2023.
How Long Should My Roof Last?
Asphalt shingles are a popular roofing material due to their low cost, ease of installation, and long lifespan. Asphalt shingles can last between 15 and 30 years on average, depending on factors such as shingle quality, climate and weather conditions, and maintenance. Factors such as roof angle, sunlight exposure, and attic ventilation can all have an impact on the lifespan of asphalt roofing as well. Regular maintenance, such as cleaning the roof, removing debris, and repairing any damage, can help asphalt shingles last longer. However, as shingles age, they become more prone to damage and may need to be replaced to prevent leaks and other problems.
Is it Time for a New Roof?
We recommend replacing your roof proactively, rather than reactively, based on the life expectancy of the roofing material. Loose or missing shingles, cracked, curled, or otherwise damaged shingles, missing granules, moss or algae growth, damaged or discolored vents, and missing, damaged, or rusted flashing are all signs that your roof is failing. A sagging roofline or other unusual shapes on your roof should also be considered. We recommend a professional roof inspection at least once a year, as well as after severe weather.
What Does Asphalt Roof Replacement Cost in Stockertown, PA?
Because roofing materials' prices fluctuate, it's difficult to provide you with accurate pricing on the shingles themselves. Asphalt shingles are available in three different price ranges to meet your needs. 3-Tab Shingles are the least expensive of the three options, making them an excellent choice for those on a tight budget. Dimensional or architectural shingles cost slightly more than 3-tab shingles, but they last much longer and have more warranty options. Luxury Shingles are the most expensive of the three types of shingles. While they are the most expensive, they are also the most attractive and durable.
Convenient Roof Replacement Financing Options
A new roof is a large investment, but financing makes it more affordable for many Stockertown, PA homeowners. Our roofing installation company works with a variety of lenders to find you the financing that fits your budget and covers the entire reroofing project as well as any other home improvements you require, such as new windows, doors, and siding.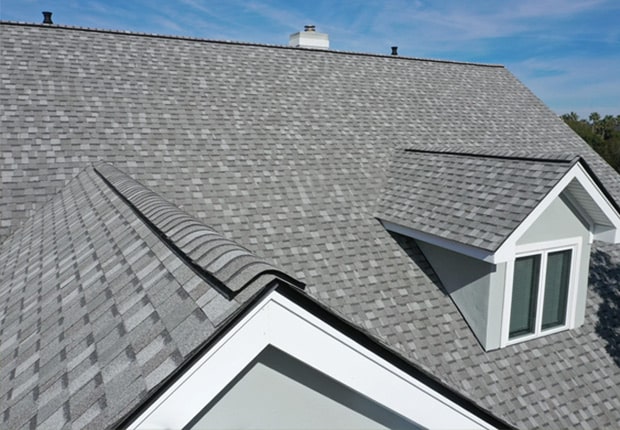 Asphalt Shingle Warranty
The asphalt shingle manufacturer provides a material warranty. If there is ever an issue with the roofing material itself, the warranty is critical to protecting your roof investment.  Each Stockertown, PA asphalt roof replacement includes the manufacturer's warranty. 3-Tab Shingles come with a 25-year warranty, while Dimensional and Luxury Shingles come with a 30-year prorated warranty. Dimensional and Luxury Shingles are available with a lifetime warranty. To qualify, all asphalt roofing components (including shingles) must be purchased as part of a complete roof system from a single manufacturer. Enfinity Designer Shingles are part of Green Eco Solutions' exclusive Enfinity Lifetime Roofing System, which comes with a lifetime warranty.
Stockertown, PA Homeowners Choose Green Eco Solutions
When it comes to a new roof for your Stockertown, PA home, the roofing installation company is the most important choice you'll make. There are many roofers in the region who'll install your new roof, but many do not have the expertise, experience, and insurance that we do. Green Eco Solutions provides accurate and upfront estimates and schedules. We handle all permits and, if applicable, insurance paperwork. Our project leads will design a roofing system custom to your home, and we'll carry out the installation with precision and by following all building codes and manufacturer requirements.