A Brand New Shower in as Little as One Day
There's no reason to put off designing your dream shower. Green Eco Solutions provides shower installation services in a single day, saving you both time and money on a lengthy and costly construction project. We can help you update your guest bathroom before the holiday season or transform your master bathroom into a luxurious retreat.
Our specialized installation process is designed to disrupt your daily routine as little as possible, allowing you to enjoy your new shower quickly. To ensure that your new shower fits seamlessly into the existing space, our experts will take precise measurements and photographs of your bathroom. With a variety of design options available, we can assist you in finding the perfect look to complement any home.
Need Renovation Services?
Get A Free Quote
Should I Install a New Shower?
Leaking Water and Moisture Build-up: Have you observed standing water on the bathroom floor or damp patches on the walls surrounding the shower? These situations are not desirable as they are clear signs of a leak. While reapplying caulk around the shower's edges may resolve the issue in some cases, it's possible that pipes located behind the wall may be leaking. It's critical to contact a professional plumber immediately if you notice any unusual water spots around the shower.
Stains and Corrosion: Neglecting regular maintenance of your shower can lead to stains and rust forming on the tiles and associated hardware. Minor stains, mildew, or water spots can typically be removed with a scrub brush and a bathroom cleaning solution. However, if these conditions are left unattended, they may become irreversible. Remember, rust can only deteriorate over time, and rusted fixtures may fail unexpectedly.
Shower Door Issues: Are you experiencing difficulties with your shower doors? Maybe they don't slide easily anymore, or the glass is damaged or cracked. If these issues are not addressed promptly, they may worsen over time and ultimately lead to complete failure. Even minor cracks or chips can expand over time, potentially causing broken glass in the bathroom.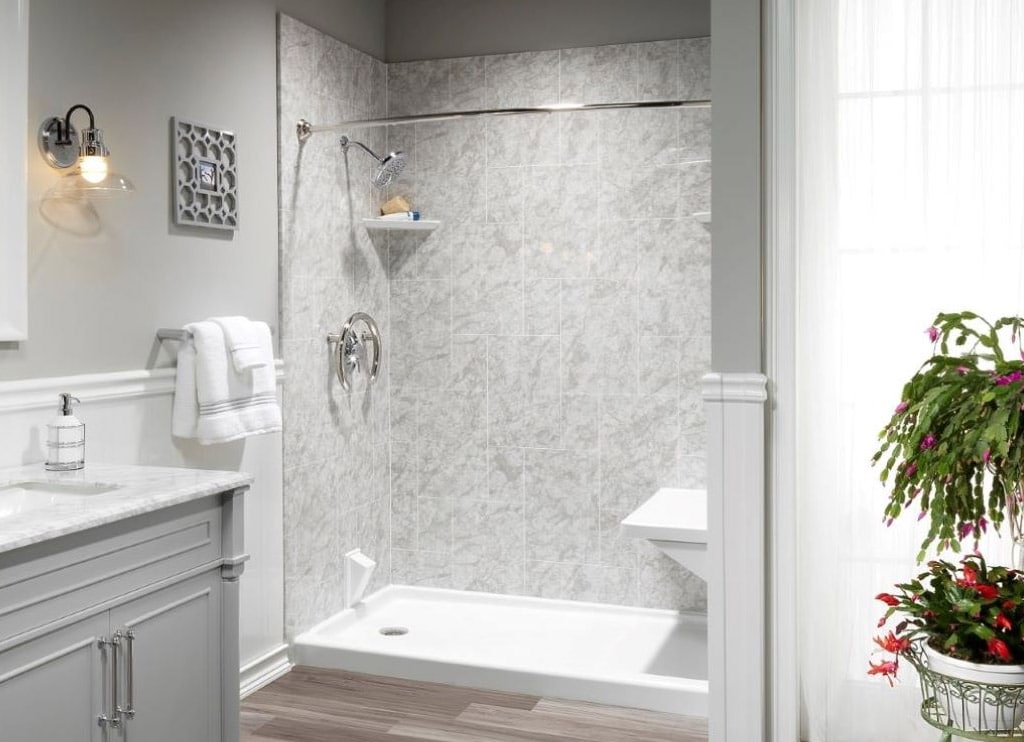 Want to Install a New Shower?
Custom Shower Designs
We make it simple to customize the style of the shower enclosure, the wall colors, the location of the grab bars, and many other features to create the shower of your dreams. You can even incorporate built-in seating, handheld shower heads, and a low-threshold entryway. Improve the overall design of your bathroom and make the shower more practical and accessible for people with mobility issues.
Durable Materials & Precision Installation
When it comes to modern bathroom renovations, acrylic showers are a popular choice due to their durability and stylish appearance. Our shower systems are renowned for their durability and ability to withstand wear and tear. Unlike porcelain or ceramic fixtures, acrylic showers and tubs are less prone to chipping, cracking, or staining. Additionally, their lightweight nature makes them easy to install and handle during maintenance or renovation projects. At Green Eco Solutions, our showers are an affordable and durable solution for anyone seeking a functional and visually appealing bathroom remodel.
Get a Shower Installation Quote Today
Do you want to talk about replacing your shower but don't know where to start? When you hire Green Eco Solutions to handle your bathroom renovation, you can expect high-quality products and a quick shower installation. We can have you in your dream shower in as little as one day. Set up a free in-home consultation with us today.