Expert Roof Replacement
Green Eco Solutions is a home improvement contractor that offers a full range of residential roof replacement services. We're an award-winning company that's fully licensed and insured. Our company is established and trusted. We're committed to excellence in customer service and care and have BBB accreditation with an A+ rating. Count on us for competitive pricing, accurate estimates and schedules, and flexible financing options. Our company only uses the highest-quality roofing materials from the top brands, and we deliver custom roofing systems and superior craftsmanship that stand the test of time.
Need Renovation Services?
Get A Free Quote
Do You Need a New Roof?
Ideally, we recommend roof replacement proactively before you reach the expected end of life of your current roofing material. You should also watch for signs that your roofing system is wearing out. Common issues include shingles with curled edges and shingles that are missing, torn, or otherwise damaged. Some granule loss is to be expected over the life of a roof, but if shingles have bald spots, those need to be replaced as they're more prone to deterioration from water and sunlight. Dark streaking indicates algae growth, and the growth of moss or funguses is cause for concern as it indicates a moisture problem. You should also take note if multiple neighbors are having their homes reroofed as neighborhoods are often built at the same time and thus homes have a similar roof life expectancy.
Why Choose Green Eco Solutions?
Scheduling roof replacement proactively as opposed to in response to damage is important as it will help to minimize your long-term costs. A new roof will not only enhance the curb appeal of your home but add real value to the property. In fact, if you intend to sell, the return on investment will be between 60% and 70% based on real estate industry estimates. A new roof will also improve the energy efficiency of your home, which will make it more comfortable, lower your heating and cooling costs, and reduce your carbon footprint. Your choice of contractor is very important as well. Green Eco Solutions has extensive experience with tear-offs and reroofing. We'll design a custom roofing system for your home—moisture barrier, ventilation, flashing, shingles, and so forth—and install it with precision according to all building codes and manufacturer warranty requirements.
A Wide Range of Roofing Options
Green Eco Solutions works with many different premium roofing materials and gives you a range of options for your roof replacement selections when it comes to material, style, color, and more. If you're unsure which roofing material is best for your home, our team can explore your options with you and provide the professional guidance you need.
The Forever roofing system by Enfinity features laminated architectural shingles that have a high-definition profile and which are available in numerous colors, including uncommon hues. The system encompasses underlayment, a moisture barrier, drip edges, ridge vents, and performance shingles.
The Limited shingles are fiberglass architectural shingles. This system is similar to the Forever system overall, but the shingles are designed with some notable characteristics. These include wind resistance up to 160 mph, an enhanced top coat for better weathering, and adhesiveness in cold temperatures.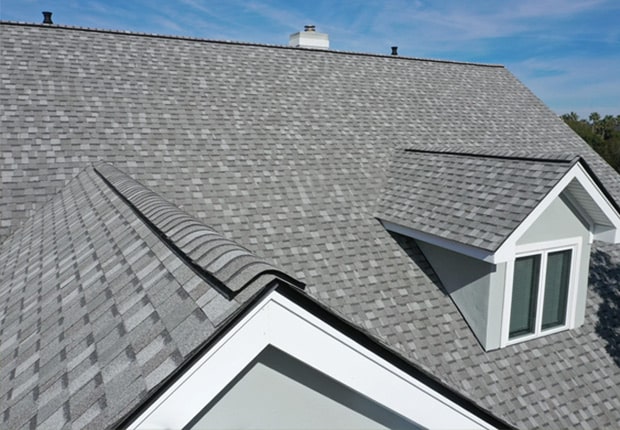 Asphalt shingles are the most popular choice for roof replacement in North America, and the shingles we install are not limited to the Enfinity brand. Green Eco Solutions also installs traditional three-tab asphalt shingles and architectural asphalt shingles from all of the top roofing material manufacturers.
You have the option of asphalt shingles and metal roofing that has been ENERGY STAR certified. Sometimes referred to as COOL roofing, these materials have pigmented coatings or cooling granules that block heat. We can also install a radiant barrier designed to keep your attic cool.
Eco Green Solutions also specializes in metal roof replacement and installation. We install Enfinity steel metal roofing panels, which are waterproof and fireproof and can withstand 120-mph winds. Metal roofs do cost more up front, but a steel roof can last upward of 70 years.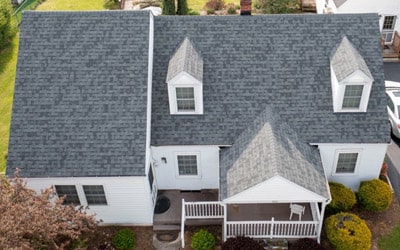 $139/Month
A Full Roof Replacement
Roof must be a minimum of 15 squares to qualify.
Subject to approved credit. Cannot be combined with any other offer. Offer expires on September 30, 2023.
Great Savings on Roof Replacement Services
When it comes to your home, we think that the job should be done properly the first time. We stand behind our work and always ensure that our customers are completely satisfied. We strive to keep our roof replacement services affordable so that you will not hesitate to refer Green Eco Solutions to friends, family, and neighbors.
Free Roof Replacement Estimate
If you're considering roof replacement, Green Eco Solutions will provide you with an on-site consultation at no cost and without obligation. We'll inspect your existing roof, answer any questions that you may have, and explore your options with you. Our team will never resort to high-pressure sales tactics or attempt to sell you something you don't need, and we'll provide you with an accurate and upfront estimate.
Flexible Financing Options
Roof replacement is a big investment, and we partner with area lenders to offer convenient and flexible financing options. We can even discuss those options with you during your free consultation. Customers who want a short-term loan can enjoy zero-percent interest for up to 48 months, and those who want a longer-term loan can enjoy low fixed payments for up to 120 months.
Choose Green Eco Solutions for Your Roof Replacement
Green Eco Solutions is the local contractor that you can count on to deliver a beautiful new roof that will protect your home for many years to come. Call us today 1-610-798-1498 or contact us online to schedule your free consultation or with any questions about the roofing products and services we offer.