Enhance Your Home With Architectural Shingles
Asphalt shingles are the most prevalent roofing material in North America, and homeowners in New Jersey and Pennsylvania tend to choose architectural shingles in particular because they last longer and are more durable, which results in a lower cost over the long term. In the Lehigh Valley and throughout the surrounding areas, Green Eco Solutions is the company to trust if you need your home reroofed. We're an award-winning and fully licensed roofing contractor that only uses premium roofing materials and delivers superior workmanship that stands the test of time.
Need Renovation Services?
Get A Free Quote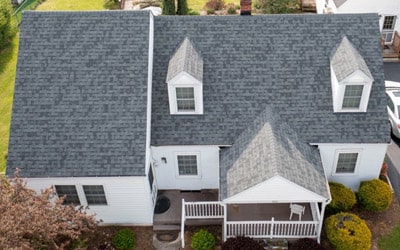 $139/Month
A Full Roof Replacement
Roof must be a minimum of 15 squares to qualify.
Subject to approved credit. Cannot be combined with any other offer. Offer expires on September 30, 2023.
Do You Need a New Roof?
Our advice is to replace your roof proactively as this approach will save you money in the end. If you currently have architectural shingles, for instance, then the 25-year mark is the time to consider replacement rather than waiting for the shingles to fail and running the risk of water damage. You should also have your roof inspected on an annual basis and maintenance performed as needed. Signs that your roof needs to be replaced include shingles that are missing, torn, or curled up at the edges. Watch for balding shingles, and those granules can wind up in your gutters or around your foundation. Flashing that is rusted or otherwise damaged needs to be replaced. Keep an eye out for a sagging roofline, which is often best seen from across the street, and call us if you notice dark streaks, moss, or fungal growth.
The Benefits of New Architectural Shingles
Having your home reroofed in a timely manner is essential to protecting the structure from water damage and preserving curb appeal and property value. Choosing architectural shingles over 3-tab asphalt shingles is the right choice. While traditional shingles are cheaper, dimensional shingles last longer and will thus cost you less over the life of the roof. They also provide better protection against wind, rain, sunlight, and impacts, and they're more energy efficient too, which results in lower heating and cooling costs and helps to save you more over the shingle lifespan.
Why You Should Choose Green Eco Solutions
There are many reasons why Green Eco Solutions is the smart choice to install your architectural shingles. We are a fully licensed and insured roofing contractor that has been established and trusted in this region for more than 30 years. We only use premium roofing materials and use our buying power to sell those materials to our customers at competitive prices, and our installation techniques are proven and refined and in accordance with all building codes and manufacturer requirements.
What Are Architectural Shingles?
Architectural shingles, which are sometimes called laminated shingles or dimensional shingles, are a type of asphalt shingle that is layered. That additional thickness provides greater durability. It also allows for a longer lifespan, which is why these products often have warranties ranging from 25 to 50 years. Another advantage of the thickness is the design possibilities, which is why architectural roofing products are available in more colors and textures, including designs that mimic other roofing materials.
Architectural vs. 3-Tab Asphalt Shingles
Architectural shingles and 3-tab shingles are both a type of asphalt shingles. The main difference is that a 3-tab shingle is flat and has a single layer whereas an architectural shingle has dimension and multiple layers. The 3-tab shingle is cheaper initially, but the architectural shingle is cheaper over time. The lifespan is double that of the traditional shingle or more, which more than offsets the additional cost.
Highest-Quality Roofing Materials
Green Eco Solutions offers the best architectural shingles available. We also use premium materials in all aspects of roof replacement, including underlayment and roof ventilation. The quality of the materials we use is important and often the difference between a roof that exceeds its life expectancy and one that falls short.
Free Roof Replacement Estimate
If you're considering having your home reroofed with architectural shingles, Green Eco Solutions will come out to your location at no cost to you and without obligation. We'll perform a roof inspection, explore your roof replacement options with you, and provide you with an accurate estimate that covers all labor and roofing materials.
Flexible Financing Options
Having new architectural shingles installed can be a significant investment, and we offer financing in order to make it more affordable. You have the option of a short-term loan with a rate as low as 0% for up to 48 months, or you can opt for a long-term rate with a fixed monthly payment for up to 120 months.
Schedule Your On-Site Consultation Today
Green Eco Solutions has been a trusted company in this region for many years, and we're confident that we can make you our next loyal customer. Contact us online today, or call us at 1-610-798-1498 with any additional questions about architectural shingles.