Lasting Protection for Your Home
Homeowners in the Lehigh Valley and throughout the surrounding areas have been choosing Green Eco Solutions to install their new roofs for more than 30 years. Our roofing installation company is fully licensed and insured in both Pennsylvania and New Jersey but also established and trusted throughout the region. You can count on us to design and install a roofing system that will beautify your home, protect it, ensure its energy efficiency, and deliver you an excellent return on your investment.
Need Renovation Services?
Get A Free Quote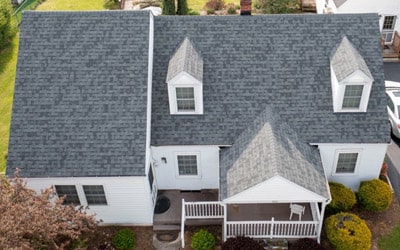 $139/Month
A Full Roof Replacement
Roof must be a minimum of 15 squares to qualify.
Subject to approved credit. Cannot be combined with any other offer. Offer expires on September 30, 2023.
Is It Time for a New Roof?
A challenge many homeowners face is determining when is the right to time to replace a roof. The best advice we can offer is to schedule roofing installation proactively based on the expected lifespan of the current roofing material. This approach is more cost-effective than waiting for the roof to begin failing. You should also consider performing annual inspections and maintenance but also perform regular inspections yourself from the ground. Look for sagging, which is often easier to spot from across the street. You should also watch for missing and damaged shingles, shingles that have lost their granules, missing or damaged flashing, algae and fungal growth, and problems with your gutters.
The Benefits of a Professional Roof Installation
Replacing your roof in a timely manner will improve your property value and maximize your home's curb appeal. It will also ensure that the structure of your home is protected for decades to come and also ensure that your home is as energy efficient as possible thus making it cheaper to heat and cool. It's also important that you choose the right contractor for your roofing installation. Many companies perform a tear-off, install new shingles, clean up and then go. Green Eco Solutions, on the other hand, will evaluate your home, design a system unique to it, install new shingles but also new underlayment and roof ventilation, and meet or exceed all local building codes and manufacturer warranty requirements.
Why You Should Trust the Pros at Green Eco Solutions
Green Eco Solutions is an award-winning company that has served the Lehigh Valley and beyond for more than three decades. Our company only uses premium materials developed and manufactured by the most trusted roofing brands, and we back every roofing installation project up with our Homeowner Happiness Guarantee. If you're not 100% satisfied with your new roof, you don't pay.
Roofing Systems We Install
Green Eco Solutions offers a wide range of roofing options for your home. These materials include various asphalt shingles but also metal roofing systems. We also offer many colors and other stylistic options so that you can choose a roofing installation material that not only protects your home but maximizes its curb appeal.
Forever shingles are a premium architectural asphalt shingle. They deliver stunning aesthetics and are available in a broad range of color combinations but provide exceptional performance as well.
The Enfinity Limited roofing system uses high-quality fiberglass shingles. These architectural shingles have a traditional aesthetic and are engineered to withstand winds as high as 160 mph.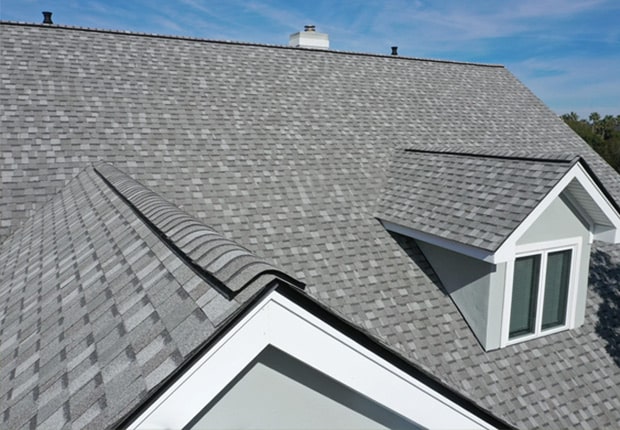 Asphalt shingles are the most prevalent roofing material in North America. We install three-tab shingles, which are the most affordable up front, but also dimensional shingles and luxury alternatives.
Green Eco Solutions also offers energy-efficient shingles, such as the Enfinity Lifetime roofing system. This system features a solar barrier and shingles that withstand UV damage and thermal expansion.
Metal roofing systems require a larger upfront investment but will last for many decades. Steel, such as Enfinity Steel, is a popular choice for its durability. Other options include aluminum, copper, and zinc.
We Install New Roof Ventilation
One of the ways we distinguish ourselves from other roofing companies is that we don't simply install new shingles and consider it a job well done. Our team will assess your home and configure the roofing system you've chosen to your unique structure. That includes ventilation, which is a key aspect of any roofing installation project. We'll upgrade your roof ventilation as needed and install all new ridge vents and other features.
Roof Repair and Maintenance Services
Many homes in this region suffer roof damage due to severe weather or deterioration over time, and these issues don't necessarily demand new roofing installation. If your roof is within its expected lifespan and otherwise in good condition, our team can carry out precision repairs that restore it so that it protects your home and ensures its energy efficiency for many years to come.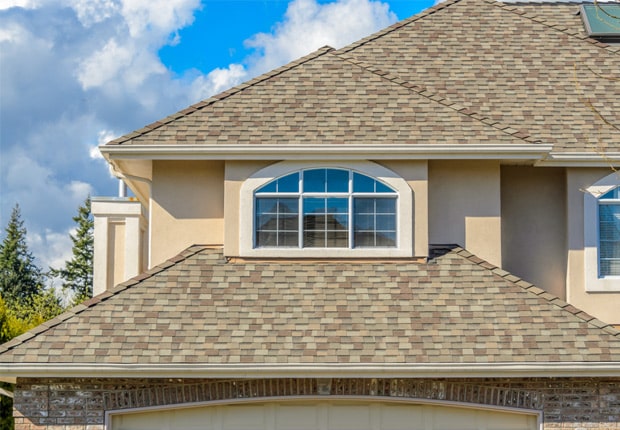 Financing for Your New Roof
Our team appreciates the challenge of budgeting for a new roof, which is why we've partnered with area lenders to offer you flexible financing options. With approved credit, you can choose a finance plan that covers the entire roofing installation project. Customers who prefer a short-term loan can benefit from 0% interest for up to 48 months, and those who prefer a long-term loan can enjoy a low fixed payment for as long as 120 months.
Free Roofing Installation Estimate
If you're considering a new roof, Green Eco Solutions is happy to provide you a free quote. Schedule an appointment by phone or online through our website. We'll send a consultant to your home to inspect your roof, answer any questions that you may have, and explore your roofing installation options with you. For any of the options that interest you, we'll provide you an accurate estimate that covers all aspects of the installation, including the labor and roofing materials.
A Lehigh Valley Roofing Contractor You Can Trust
When you need a new roof installed, you want an established, expert roofing contractor that will deliver you superior craftsmanship at a competitive price, and that company in the Lehigh Valley is Green Eco Solutions. Call us today at 1-610-798-1498 or contact us online to schedule a free roofing installation consultation or with any questions about the roofing systems we offer.