Your Local Roof Replacement Expert
Green Eco Solutions is a fully licensed and award-winning roofing contractor that excels in roof replacement and improving your home's energy efficiency.
Getting a complete roof replacement is a major project for any homeowner. If your roof is showing signs of age or has significant damage, regular repairs and maintenance may not be enough to preserve the integrity of your roof. Green Eco Solutions are your local experts for complete roof replacement. We service a wide variety of roofing materials and give you a durable, high-quality roof that will perfectly complement your home and last for years to come.
Need Renovation Services?
Get A Free Quote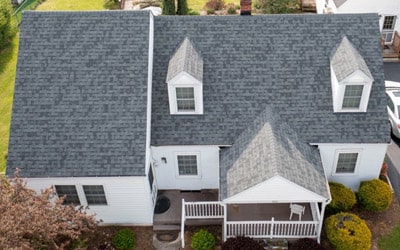 $139/Month
A Full Roof Replacement
Roof must be a minimum of 15 squares to qualify.
Subject to approved credit. Cannot be combined with any other offer. Offer expires on December 31, 2023.
Great Savings on Roof Replacement Services
When it comes to your home, we think that the job should be done properly the first time. We stand behind our work and always ensure that our customers are completely satisfied. We strive to keep our roof replacement services affordable so that you will not hesitate to refer Green Eco Solutions to friends, family, and neighbors.
Wide Selection of Roof Coverings
Roofing Systems To Choose From
Roofing shingles by themselves are rarely sufficient to safeguard the ones you love. Green Eco Solutions uses a multi-layered roofing system that integrates our industry-leading solutions, all of which are designed to help protect the roof deck, eaves, and vulnerable roof sections from water infiltration. Your new roof is a significant investment that will protect your house and family for many years. Choosing the right type of roofing to install on your home can be done easily with the guidance of our roofing experts. Learn more about our available roofing systems.
Roof Replacement
How To Know When To Get A Roof Replacement
Depending on what type of roof you have, below are some signs that could indicate the need for a Roof Replacement. Call Green Eco Solutions today if your roof is displaying these signs. Our expert roof inspection can tell you if you need a full replacement or if repair and maintenance is a better option for your home.
Roof is Old or Past Warranty
A properly installed asphalt roof should last 15-20 years. When your roof is nearing the end of its shelf life it's important to plan ahead for a replacement before problems start to occur. If you are unsure of your roofs age, we can help.
Missing or Broken Shingles
Shingles can go missing during storms and when this happens, they should be replaced as soon as possible. If they fall off naturally, it could mean that many more are about to fall off and compromise your roof.
Curling or Buckling Shingles
Incorrectly applied felt, insufficient roof ventilation, wrinkled underlayment, or a layer of new shingles applied over an existing layer of shingles are common reasons that your replacement shingles may buckle.
Recent Storm Damage
High winds, hail, and heavy rain can put stress on your roof which can cause immediate and prolonged issues. After any major storm, it is smart to inspect your roof to ensure everything is OK.
Damaged Flashing
Many roof leaks are caused by missing or damaged flashing. If the edges and valleys of your roof are not flashed properly, water can infiltrate your roof.
Cracks or Leaks
Any time you have water in your home, there is a problem that should be addressed immediately before structural damage and mold growth occur.
The Forever Roofing System
You can rely on the Forever Roofing System to provide reliable protection against wind uplift, water infiltration, and other harsh weather conditions. Colors are available in both conventional and uncommon combinations. Because of their broad exposure, high-definition profile, and dimensional thickness, these roofing shingles are popular among homeowners, and they provide the best overall value for contractors.
Roofing contractors and homeowners alike choose laminated architectural roofing shingles. They have a high profile and dimensional thickness that may improve the roofscape of any type of property and available in a broad range of attractive, exclusive color combinations. Architectural shingles from the Forever Roofing System are among the best available.