About Andersen
Andersen Corporation is a global manufacturer of windows and doors. Hans Andersen and his family founded Andersen in Hudson, Wisconsin, in 1903, where logs arrived through the St. Croix River. Andersen Corporation and its subsidiaries, headquartered in Bayport, Minnesota, today produce and sell window and door products under the Andersen® brand.
Need Renovation Services?
Get A Free Quote
The Benefits Of Andersen Windows
Strength
For better robustness both inside and out, we employ the correct materials, such as solid wood and vinyl.
Protection
Sealing out drafts, wind, and water is at the heart of Andersen product's design, regardless of where you reside.
Energy-Efficient
Andersen products offer superior energy-efficiency to help lower heating and cooling bills.
Options
Exterior colors, hardware options and finishes, grid patterns, sizes, and more.
Easy Maintenance
Exteriors with vinyl-clad never need to be painted.
Seamless Operation
Andersen Windows are simple to use on a daily basis.
Advantages Of Andersen Certified Contractors
Andersen Certified Contractors are hand-picked by our team of industry specialists and are given state-of-the-art product training and installation materials. Our knowledge and experience through 30 years of residential projects enables us to capture your vision for your home and collaborate with you to supply the best product for the job.
Premium Products
From modern to contemporary styles, we provide beautiful, dependable, and long-lasting solutions to help you complete your project.
Exclusive Access
You'll get access to premium installation and financing options for your project when you use an Andersen Certified Contractor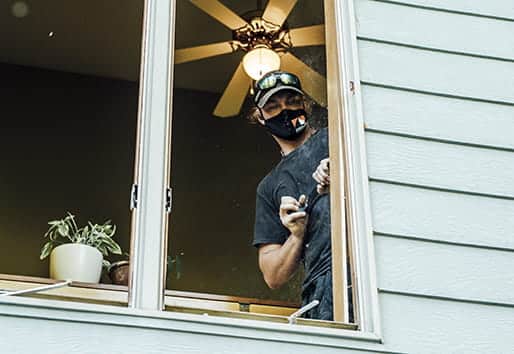 Expert Craftsmen
Our skilled and well-trained professionals share your commitment to quality, performance, and dependability.
More Confidence
Andersen Certified Contractors have vast window and door replacement experience to make any project a success. We have been vetted, trained, and backed by the industry leader.
Andersen FibreX Windows
FibreX is a blend of 40% wood fiber by weight, mostly reclaimed from Andersen manufacturing processes, with 60% thermoplastic polymer by weight, some of which is also reclaimed.
Blocks thermal transfer nearly 700 times better than aluminum to help reduce heating and cooling bills.
Reduces VOC emissions because no wood preservative treatments or painting is required.
Twice as strong as vinyl, so weathertight seals stay weathertight.
Retains its stability and rigidity in all climates.
A unique fabrication process blends the color with the Fibrex® material during production for long-lasting beauty.
Resists rot, decay and fungal growth, and won't flake, blister, peel, pit or corrode*
Start Now With A Free Window Replacement Cost Estimate!
Do you want industry-leading replacement windows that outperform the competition in nearly every way? Andersen Windows From Green Eco Solutions are an excellent option for you. Make an appointment with us today for a free window replacement estimate! Chester, Quakertown, Philadelphia, Reading, Northampton, Montgomeryville, Wilkes-Barre, and the surrounding areas are all served by us!
Need a Window Replacement?